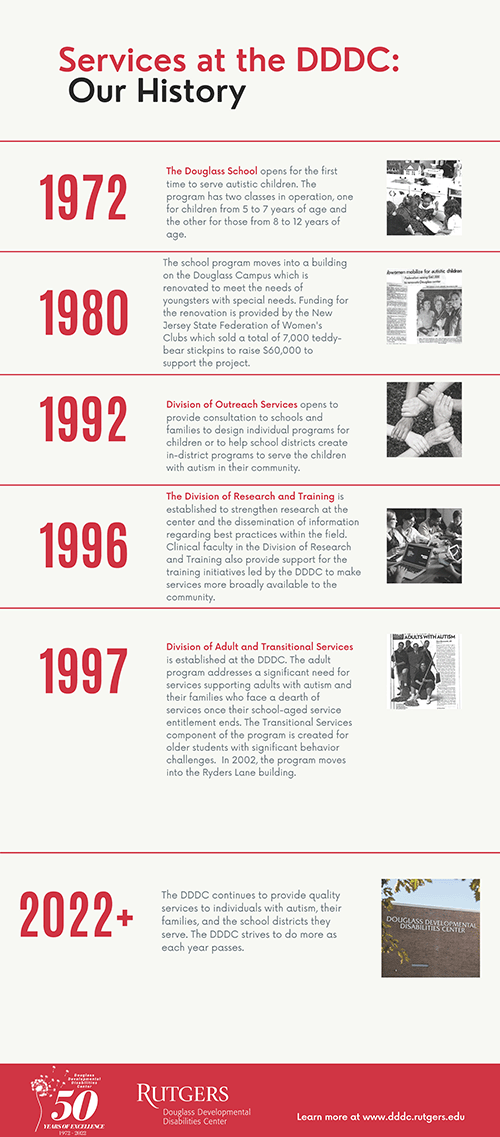 OUR HISTORY
On September 11, 2022, the Douglass Developmental Disabilities Center (DDDC) will celebrate 50 years since its founding in 1972. Part of the Applied and Academic Autism Services (Triple A) unit within Graduate School of Applied and Professional Psychology (GSAPP), the DDDC is a center that focuses on the application of applied behavior analysis to the delivery of service, training, and research to support individuals with autism spectrum disorders (ASD). We provide services to individuals through their lifespan as well as support to their families and training to the professionals who provide services for them.
The DDDC was built on the pioneering work of Dr. Sandra Harris. Dr. Harris founded our center in 1972 to address a lack of services available to children with autism and to train the professionals who were so desperately needed to support individuals with autism in the community. Dr. Harris also worked to build a research base to examine how to best meet the needs of autistic individuals. Until her retirement in 2001, Dr. Harris's work had a tremendous impact on the availability of services for individuals with ASD and the training of professionals to provide those services in New Jersey as well as nationwide and around the world.
As we enter the next 50 years at the DDDC, we continue Dr. Harris's commitment to the autism community through education/services, training, and research/scholarship. The DDDC continues to serve individuals with ASD through the lifespan in our center based school and adult programs while refining its mission to respond to changing needs within the autism community as well as a changing landscape of professional services available for individuals with ASD in NJ.
In response to greater availability of more autism services in the broader community, the DDDC has adapted over time to focus on serving individuals more significantly impacted by autism and intellectual disabilities. Currently, the school program at our center specializes in serving children with severe challenging behavior. We also continue to support other school aged children in the community through consultation to other school programs and training to the professionals providing services to them. Each year, at our center, we also provide training to dozens of undergraduate and graduate students from a variety of disciplines to develop the next generation of professionals prepared to meet the needs of individuals with ASD. We expand our reach even further through dissemination of research into how to best meet the needs of individuals impacted by autism.
We are excited to begin the next 50 years of service, training, and research to support autistic individuals with a shift to support the GSAPP commitment to serve the underserved. We will maintain our support to the broader autism community while focusing on serving those whose significant learning and behavior challenges whose needs are not addressed adequately through more broadly available ABA services.